Marie-José is pleased to welcome you in "La Luronne", her house in Le Croisic.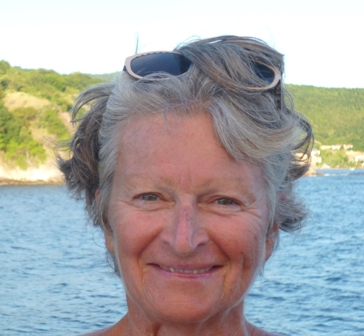 Coming from Saffré (close to Nantes-44), Marie-José settled in 1980 in Le Croisic, in the house built by his parents in 1963. While she was a chemist here, she happened to meet all the actors of the local life which led to many long friendships. This is how she discovered and learnt so many things regarding the surrounding (le traict du Croisic, le son et lumière du Mont Esprit, l'Océarium, la chapelle du Crucifix, les marais salants, la ville forte de Guérande, le parc de Brière, etc) that she is really in love with. Once part of Le Croisic Tourist Office, she gathered many books and knowledge about the area that she can't help sharing.
She is ready to give you tips and advices about the visits and activities to do in the area, whereas you stay one or several days. These are often provided with anecdotes and stories about her early life in the Club Mickey and Le Croisic.
She will be also glad to recommend local specials, restaurant and producers, as well as to speak tirelessly about the West Indies…
CONTACT DETAILS
Do not hesitate to contact should you need any further information regarding your booking or your stay and its planning.

Mobile :

+33.(0)6.81.87.03.84

We do speak English.

Si, muy bien.

Nur ein bisschen.

Mada kimete imasen.

We do speak English.

Si, muy bien.

Nur ein bisschen.

Mada kimete imasen.